Australian Beach Energy has reported a net loss for the second straight year. On August 29 the company said its net loss for the year that ended on June 30 stood at A$589mn (US$444mn) compared with A$514mn reported in the previous year. Total revenue weakened 23% to $558m impacted by low oil prices.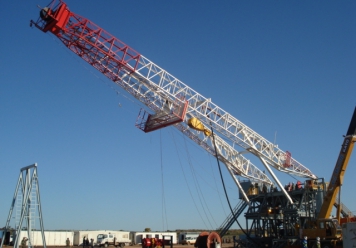 Cooper basin shale gas drill rig (Credit: Beach Energy)
Production during the year was 9.7mn barrels of oil equivalent. Oil accounted for 53% and gas and gas liquids for 47% of its output. Total oil production was 5.2mn barrels, up 12% on last year thanks to successful completion of the merger with Drillsearch, new wells brought online and various field development projects.
Gas and gas liquids production was 4.5mn boe, down 1%. Beach said its merger with Drillsearch provided full ownership of key Western Flank oil and gas permits, additional gas and gas liquids exploration acreage, and expected annual pre-tax cost savings of up to A$40mn. The average realised oil price decreased to A$60/b, down A$30/b from the previous year.
In the fiscal year 2017, production is likely to be higher than what was achieved in FY16, with guidance in the range of 9.7mn to 10.3mn boe, Beach said.
Shardul Sharma
---
You can now also follow Natural Gas World directly on your phone or tablet via Google Newsstand and Flipboard. Click  or    
  Natural Gas World welcomes all viewpoints. Should you wish to provide an alternative perspective on the above article, please contact editor@naturalgasworld.com Kindly note that for external submissions we only lightly edit content for grammar and do not edit externally contributed content. 
… read the report Read the full article online ( external link )